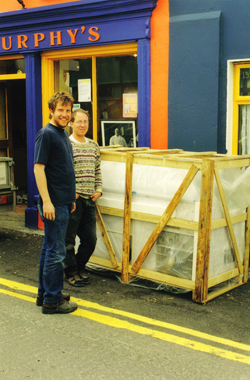 Amazing as it seems, we're completing our 10th year of Murphys Ice Cream. I thought, perhaps, I'd try to write up a Top Ten highlights of the decade of ice cream, even though there were so many amazing moments…
First Ten Years of Murphys "Top Ten"
1. Opening the doors in Dingle. A dream becomes a reality.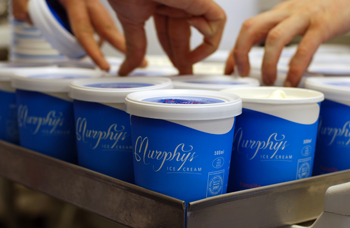 2. Moving the ice cream making from the back of the Dingle shop into our own little ice cream factory. The move allowed us to launch our tubs into Dublin and other places around the country (and happily places like Morton's, Fothergill's, Ivan's and Donnybrook Fair took us in). Suddenly, we were more than just a shop in Kerry.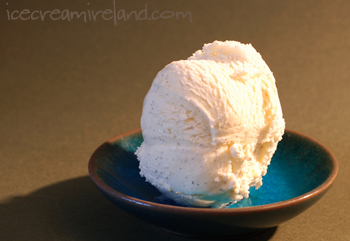 3. Some of our ice cream and other creations. My (very subjective) top ten of the products that made me proud: Aztec Hot Chocolate, Vanilla Ice Cream, Chocolate Whiskey Ice Cream, Champagne Sorbet, Brown Bread Ice Cream, Extreme Cocoa, Goat's Cheese Ice Cream, Wiebke's Fudge Cake, Chocolate Sorbet.
4. Support from the press. From the Irish Tatler to the Irish Times, from Nationwide to Moncrieff, we've had amazing support from journalists who care, both here at home and abroad. It's been such a help, and we're very grateful!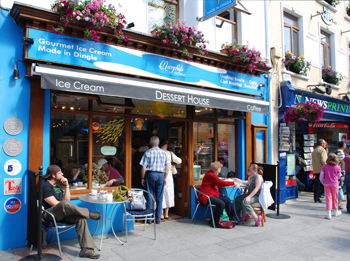 5. Opening our second shop in Killarney.
6. Awards, from Great Taste Awards to Food and Wine Artisan Supplier of the Year to Blog Awards. What ever one might think of awards, they give a great deal of satisfaction and pride for the whole team for all the hard work.
7. This blog and other social media – finding new ways to keep in touch and spread the message of ice cream, as well as meeting a whole range of new people!
8. Our staff – they have delivered the Murphys experience to thousands upon thousands of customers, entertained us, and kept us going and in high spirits over the last ten years. To all who have worked at Murphys in the past and especially to the team we have now, thanks a million!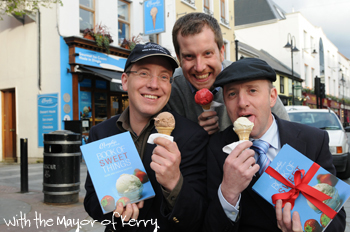 9. The Book of Sweet Things – A Murphys cookbook was a dream come true, and we were so happy when Mercier Press decided to take a chance on us. Creating the book was so much fun to do, and I hope that there are many more people out there now happily making their own ice cream.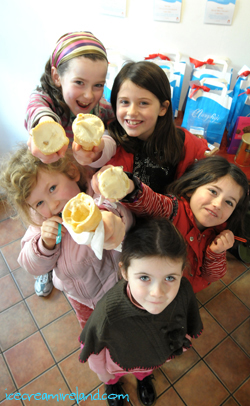 10. Customers. They might come last in this list, but they really come first in terms how much they have meant to us.
Our customers believed in us and supported us financially and in many other ways. They helped us design our products, improve our shops, and find new outlets. They chided us when we went off course and saved us from many disasters. They kept us laughing and kept us passionate.
From the very young to the very old, from those here at home to those from abroad, we have met so many special people over the years, and we had so many special times with them.
To any of our customers reading this: thanks, thanks, and thanks.
We hope to be there for you for the next ten years!
Technorati tags: Dingle, murphys ice cream, shop, anniversary