Archive for April, 2011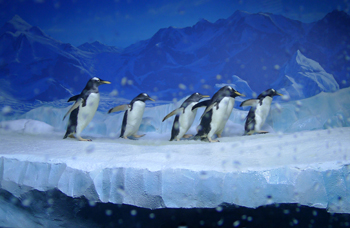 Manuela just gave me these photos she took from the open day at Dingle Ocean World, when they launched their new penguin exhibition.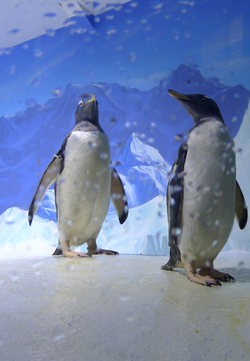 I haven't been down to see them yet, but Roisin was intrigued apparently. That being said, her biggest obsession at the moment is fish, so she was delighted for a stroll around the place.
Certainly, the penguins add another excuse for a visit, and it is worth calling in, since there's a good hour or two of entertainment there for kids on a rainy day.
Funnily enough, the cooling system for the tank uses the same technology as our ice cream chiller, so our refrigeration guy managed to get a bit of business out of it.
Good to keep things local!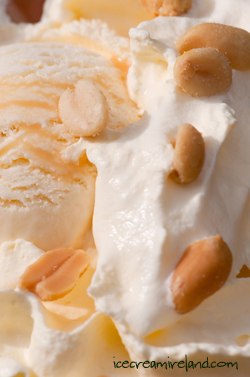 A few days ago, we were playing with sundaes in our Dingle shop. We reached the stage where our bellies were groaning from all the tasting, when Sara (wearing green hat in photo below, with Claire), who happened to be working that day, piped up and said, "Yeah, those are good. But do you want to taste something amazing? It's a peanut sundae with honeycomb ice cream."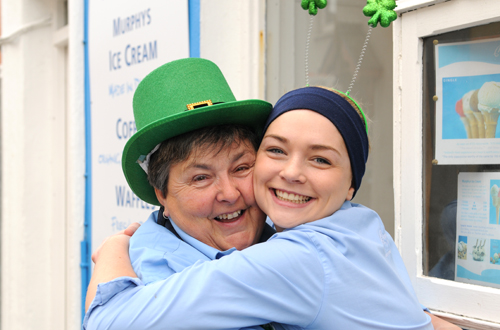 I politely said, "Please make one for us," even though I was thinking, "I couldn't really eat another bite of a sundae. And peanut? Hmmm. Doesn't sound great. Where's the subtlety in peanuts? Where's the panache? Besides, it doesn't have chocolate in it."
Of course the last bit is my personal criteria for any dessert, even though I try to be open minded and make sure we offer all sorts of things in our shops. After all, I've been reliably informed that there actually are people out there who don't always choose the chocolate option on the dessert menu.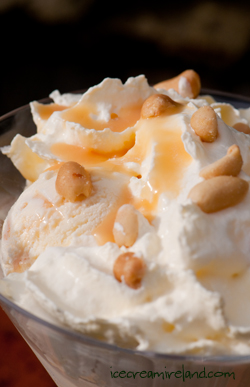 Anyway, Sara waltzed off to the shop for some peanuts, whipped up the sundae, and presented it in front of us. In went tentative spoons, and all I can say upon tasting it is that Sean, Niamh and myself all had one of those transcendent moments where you think you've never tasted anything so amazing in your whole life. We couldn't even speak. Our full bellies forgotten, we just ate until every last bit of it was gone.
I don't know why it is so good. There's nothing really special in it. There's no secret ingredient or bit of culinary whizz bang. Whatever way the peanut, cream and the caramel meld, both in terms of taste and consistency is simply amazing.
Believe me, this will be on our menus very soon…
Thanks, Sara!
Technorati tags: peanut, caramel, dessert, ice cream, sundae
You are currently browsing the Ice Cream Ireland blog archives for April, 2011.
Recent Comments

Grannymar: Sounds wonderful, Kieran, but I feel left out. Maybe by the...
Grannymar: Wrong colour for today, Kieran! Now I have an excuse to go down to...
Courtney: This sounds extremely appetizing if you are a fan of fresh mint,...
Courtney: This sorbet looks really light and perfect for a summer occasion....
Courtney: This ice-cream sounds perfect for the spring and summer seasons....
Courtney: This butterscotch recipe looks very interesting. The first thing...
Courtney: This recipe looked really good which is what initially grabbed my...

Recent Posts

Categories

Archives