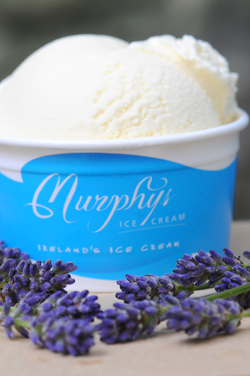 White chocolate and lavender was the second flavour we made for Bloom, and it was hugely popular. One reason I made this flavour, is that I have lavender flowers in my garden. If you're not so lucky, you should be able to find edible flowers in a whole foods shop.
White chocolate makes ice cream especially smooth and silky, so this flavour is sure to impress! Just make sure you use the best white chocolate you can lay your hands on!
Murphys White Chocolate and Lavender Ice Cream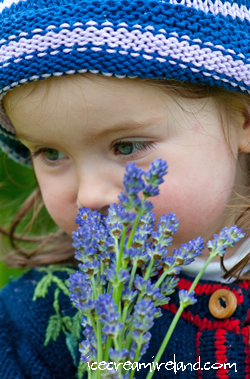 Ingredients:
2 tablespoons lavender flowers
500ml water
1 tablespoon liquid honey
130g sugar
5 egg yolks
240 ml cream
200 ml milk
80 g white chocolate
1/4 teaspoon pure vanilla extract
What to do:
Cook the lavender flowers in the water over low heat until the water has reduced to 1/10th of the volume.
Remove from the heat and strain. Stir in the honey.
Melt the chocolate in a double boiler or a microwave to about 40C.
Beat sugar and egg yolks together until pale yellow.
Bring the milk to a low simmer.
Remove from the heat and beat the milk into the egg and sugar mixture in a slow stream.
Pour the mixture back into the pan and place over low heat.
Stir continuously until the custard thickens slightly (around 65-70C) and just coats the back of a spoon. Don't over-heat, though, because at around 76C you will scramble the eggs!
Immediately remove from the heat.
The chocolate and the custard must both be warm when you mix them for a good emulsion. The chocolate will clump at first when you add the liquid, but keep adding liquid and stirring, and it will come smooth.Add the custard to the melted chocolate in small parts, mixing thoroughly until smooth and velvety. Allow to cool, then mix in the vanilla and the strained lavender water.
Whip the cream until it has doubled in volume (you should have soft peaks – don't over-whip).
Fold the cream (gently stir) into the custard.
Freeze using a domestic ice cream machine, or cover and place in the freezer, stirring every few hours to break up the ice crystals.
If you're using a domestic ice cream machine, transfer to a freezer-proof covered container when the ice cream has achieved a semi-solid consistency (around 15 minutes). Place it in the freezer, and continue to freeze until it is solid.
Yield: 8 servings.
Notes:
The boiler or container in which you melt the chocolate must be completely dry or the chocolate can clump.
Vanilla essences vary greatly, so make sure you taste the custard and are happy with the flavour!
To pasteurise the eggs, heat the custard to 73C and maintain that temperature for at least 5 minutes. Use a cooking thermometer, though, and keep stirring! If the custard goes any higher than 76C, the eggs will scramble. Immediately cover and place in the freezer until cool.
Technorati tags: lavender, white chocolate, flower, ice cream, recipe