Archive for June, 2011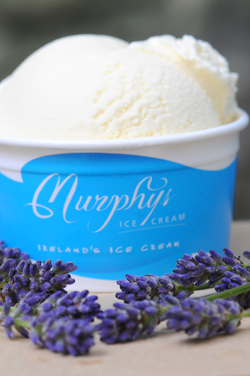 White chocolate and lavender was the second flavour we made for Bloom, and it was hugely popular. One reason I made this flavour, is that I have lavender flowers in my garden. If you're not so lucky, you should be able to find edible flowers in a whole foods shop.
White chocolate makes ice cream especially smooth and silky, so this flavour is sure to impress! Just make sure you use the best white chocolate you can lay your hands on!
Murphys White Chocolate and Lavender Ice Cream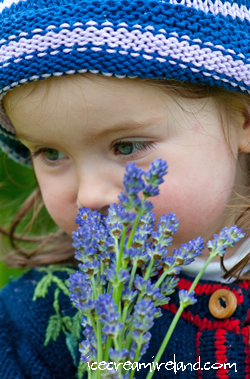 Ingredients:
2 tablespoons lavender flowers
500ml water
1 tablespoon liquid honey
130g sugar
5 egg yolks
240 ml cream
200 ml milk
80 g white chocolate
1/4 teaspoon pure vanilla extract
What to do:
Cook the lavender flowers in the water over low heat until the water has reduced to 1/10th of the volume.
Remove from the heat and strain. Stir in the honey.
Melt the chocolate in a double boiler or a microwave to about 40C.
Beat sugar and egg yolks together until pale yellow.
Bring the milk to a low simmer.
Remove from the heat and beat the milk into the egg and sugar mixture in a slow stream.
Pour the mixture back into the pan and place over low heat.
Stir continuously until the custard thickens slightly (around 65-70C) and just coats the back of a spoon. Don't over-heat, though, because at around 76C you will scramble the eggs!
Immediately remove from the heat.
The chocolate and the custard must both be warm when you mix them for a good emulsion. The chocolate will clump at first when you add the liquid, but keep adding liquid and stirring, and it will come smooth.Add the custard to the melted chocolate in small parts, mixing thoroughly until smooth and velvety. Allow to cool, then mix in the vanilla and the strained lavender water.
Whip the cream until it has doubled in volume (you should have soft peaks – don't over-whip).
Fold the cream (gently stir) into the custard.
Freeze using a domestic ice cream machine, or cover and place in the freezer, stirring every few hours to break up the ice crystals.
If you're using a domestic ice cream machine, transfer to a freezer-proof covered container when the ice cream has achieved a semi-solid consistency (around 15 minutes). Place it in the freezer, and continue to freeze until it is solid.
Yield: 8 servings.
Notes:
The boiler or container in which you melt the chocolate must be completely dry or the chocolate can clump.
Vanilla essences vary greatly, so make sure you taste the custard and are happy with the flavour!
To pasteurise the eggs, heat the custard to 73C and maintain that temperature for at least 5 minutes. Use a cooking thermometer, though, and keep stirring! If the custard goes any higher than 76C, the eggs will scramble. Immediately cover and place in the freezer until cool.
Technorati tags: lavender, white chocolate, flower, ice cream, recipe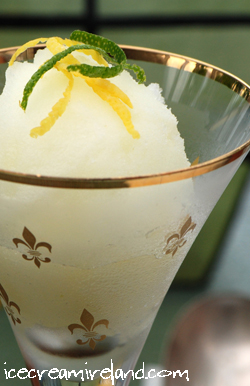 We sold out of this sorbet in two days at the Bloom festival in Dublin. It turned out really well and was featured in the Irish Times Magazine today, so I thought the least I could do was post a recipe for anyone who might have been disappointed and might wish to make it themselves.
Elderflower 'champagne' sorbet is a dessert gourmet enough to wow any foodie friends. Its taste also seems to evoke an emotional response of nostalgia, of foods once tasted and of carefree summers past. Gather friends together over a dish, and the conversation is likely to turn to forgotten memories and sunny days ahead.
I have posted a recipe for elderflower champagne here.
(And, yes, I know I shouldn't use the term 'champagne' for anything not made in that region of France, but elderflower 'sparkling wine' sounds really silly!)
Murphys Elderflower Champagne Sorbet
Ingredients:
330 gr sugar
250 ml spring water
500 ml elderflower champagne
75-100 ml lemon juice (to taste)
Yield: 6 Servings
What to do:
1. Boil the water and stir in the sugar, until it is completely dissolved.
2. Cool completely.
3. Stir in the champagne and lemon.
4. Freeze using a domestic ice cream machine, or cover and place in the freezer, stirring at 1 hr intervals to break up the ice.
5. Invite friends over & enjoy!
Technorati tags: elderflower, champagne, elder, recipe, sorbet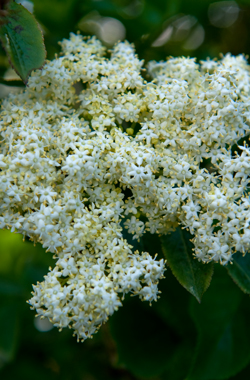 Elderflowers are one of the joys of early summer, and one of the easiest, most delicious and satisfying summer treats is homemade elderflower 'champagne.' Creating champagne with nothing but water, sugar, lemon, and a few flowers is magic. It's also a great excuse for a foraging walk and costs nothing except a bit of time.
The elderflowers need to be free of pesticides and other contaminants, and I find the best containers for fermenting the champagne are plastic sparkling mineral bottles. They are well able for the pressure, but they need to be clean!
Elderflower Champagne
Ingredients:
2.5 litre bucketful of elderflowers
1 lemon
1 kilo sugar
4.5 litre water
Yield: 5 litre bottles
What to do:
Heat the sugar and a litre of water, stirring until the sugar dissolves. Allow to cool.
As soon as possible after picking them, carefully rinse the elderflower heads and place in a clean, 6 litre bucket or pot.
Pour in the rest of the water.
Stir in the cooled sugar syrup.
Cut the lemon, squeeze in the juice, then put in the lemon as well.
Cover with a clean cloth, and leave for 2 days, stirring occasionally.
After two days, strain away the flowers and lemon and pour into clean, empty mineral bottles. Cap them tightly.
Leave the bottles for two weeks. If there is any sign of bulging, open the cap to release the pressure; then reseal.
Enjoy!
Note: I have only made this once, and it came out perfect – fully carbonated, nicely alcoholic, and very tasty. I opened one bottle every few days and tasted it, just to see how it was coming along, and I recommend you do the same. If you try this recipe, I'd love feedback!
Technorati tags: elderflower, champagne, elder, recipe, brewing
You are currently browsing the Ice Cream Ireland blog archives for June, 2011.
Recent Comments

Grannymar: Sounds wonderful, Kieran, but I feel left out. Maybe by the...
Grannymar: Wrong colour for today, Kieran! Now I have an excuse to go down to...
Courtney: This sounds extremely appetizing if you are a fan of fresh mint,...
Courtney: This sorbet looks really light and perfect for a summer occasion....
Courtney: This ice-cream sounds perfect for the spring and summer seasons....
Courtney: This butterscotch recipe looks very interesting. The first thing...
Courtney: This recipe looked really good which is what initially grabbed my...

Recent Posts

Categories

Archives