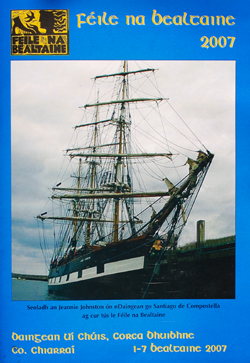 Feile na Bealtaine, the annual May arts festival, is back in Dingle from May 1-7th. Anyone coming to Dingle during this time (and I highly recommend it) is in for a real treat.
The theme is Dingle's links with Santiago de Campostella in Spain, since Dingle was one of the recognised leaving points for the pilgrimage. The festival kicks off with the Jeannie Johnston sailing off bringing pilgrims across the waters.
Some of the festival highlights are performences by Aslan, David Kitt, Mary Black, Scullion, The Four of Us, and Moya Brennan of Clannad fame.
There is also plenty of theatre, art exibitions, lectures, etc… Programs and tickets are available through the festival office on Main Street. The website is here.
Technorati tags: Dingle, music, festival, bealtaine, feile, literature