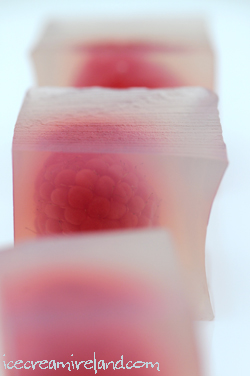 One of the ingredients used in a lot of Japense desserts is kanten, also known as agar-agar. It's a gelling agent made from seaweed, and not only is it flavourless and vegetarian (gelatine is derived from animal products), but it's high in fibre, and contains 0 calories. In fact, it spurred a diet fad in Asia, known as the Kanten Diet. In Japan, we found it as jelly cubes in desserts such as Anmitsu, sometimes served with ice cream, or in traditional Japanese sweets.
I brought back a packet from Tokyo, and when I saw a beautiful-looking punnet of raspberries in the supermarket, I had to use it! Here's what I did:
Kanten Cubes with fresh Raspberry
Ingredients:
4 gm kanten (agar-agar) powder. If you can only find the flakes, you'll probably need to use more…
350ml water
2 tablespoons sugar (or more to taste)
1/2 a lemon
About 12 fresh raspberries
What to do:
Put the water in a saucepan, and sprinkle over the kanten powder.
Bring to a boil, then reduce heat and simmer for 3 minutes.
Remove from the heat.
Add the lemon juice.
Pour into a 6″ square container, and allow to cool at room temperature for about 15 minutes.
It should have thinkened a bit by now, so put in the raspberries in neat rows, pushing them down so that they are covered by the liquid.
Cover and refridgerate.
To serve, remove from the container and cut into cubes.
PS. Agar-agar is most likely available at your local whole foods shop.