Affogato al Caffe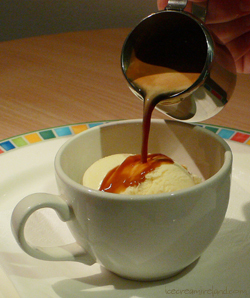 One of my favourite treats in the whole world is the Affogato al Caffe, and I just wish that more people knew about it! After all, it combines two of my favourite things – coffee and chocolate. If I make an affogato with chocolate ice cream, it includes three, although vanilla would be the more popular option…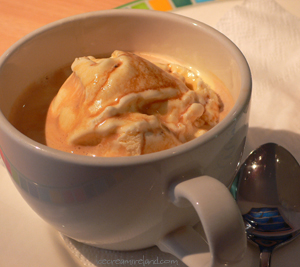 In any case, the name Affogato means "drowned in coffee," referring of course to the ice cream, and when I came across it, I thought I was in heaven.
To make it, you simply take a scoop of ice cream (we like to serve it in a small coffee cup) and pour over some espresso (we use a single shot run long, in other words, an espresso lungo). In the shops, we serve the shot of espresso on the side and let the customer do the pouring.
I think I must do more research now, and have another one!
Technorati tags: espresso, caffe, affogato, coffee, cafe, ice cream
This entry was posted on Friday, July 7th, 2006 at 11:05 am and is filed under Coffee. You can follow any responses to this entry through the RSS 2.0 feed. You can leave a response, or trackback from your own site.