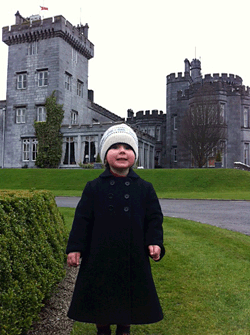 This last week, I had two friends visiting from New York, and we decided that it was time to do some reckless eating, recession or no recession.
We had a lovely stop in Dromoland and a meal of the usual high standard at the Charthouse in Dingle.
Then we headed to Dublin for a return visit to Chapter One and Thornton's in Dublin.
In Ireland, although we're proud of our scenery, our castles and our pubs, we still tend to be apologetic about food. Do we think Ireland remains backwards when it comes to good eating? I don't. Last year's culinary tour of France proved to me that we have restaurants that can stand proudly with any in the world, and we were about to visit two of the best.
For any of you who haven't been to Chapter One to taste Ross Lewis' cooking, get yourselves down there! Four years ago, I thought it was really great. Two years ago, I thought it was even better. Last summer I went, and found that he had hit still new heights. One of my two visiting friends had gone with me for that summer meal, and I think the experience was half the reason she came back to Ireland so soon. This time, it was yet again sublime. The other friend travels the world in a very high-powered job, and fine dining would be a very regular occurrence. Not only did he say that he didn't think there was a restaurant in New York as good, but he said it was his best meal in years. Period.
The next night, I brought them over to experience Kevin Thornton's culinary wizardry. Sadly, after nearly a week of stuffing ourselves, we couldn't muster the courage for the full tasting menu. This was a shame because one of my friends is a strict vegetarian. In many restaurants, vegetarians feel like second class citizens, a bother to the chef. At Thornton's, not only do they accommodate you, but they whip out a full vegetarian menu – just as exciting as the regular menu, including the option of an 8 course "surprise" menu of dishes at Kevin's whim. I thought the options looked so good that I traded in the regular menu and wasn't one bit disappointed. Next time, we'll spare ourselves some of the meals and come back for the full treatment. It surely must be as close to vegetarian heaven as it gets.