Mary's Cake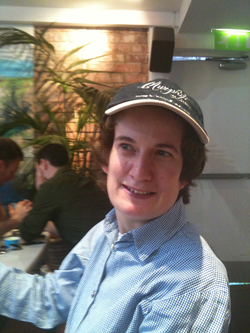 Camphill is a worldwide network of communities for people with special needs, and it's an organisation that's dear to my heart, since I have seen on many occasions the good work they do. Since Ireland has a very strong group of communities, we've always wanted to find a way to help them in some way (not just the odd fundraiser we have done in Dingle).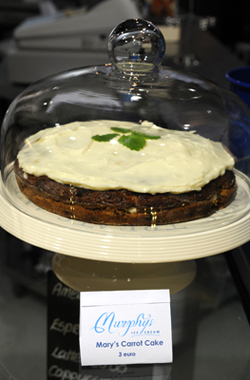 I spoke recently with Camphill Greenacres in Dublin, and they said they would love it if we could employ one of their special needs people a couple of mornings a week. Done! Above is Mary, and she is a very special person indeed. She's personable and warm, and I'm delighted to say she'll be with us in our Wicklow Street shop on Tuesdays and Friday mornings.
What was especially warming to my heart was that she arrived this Tuesday with a carrot cake she had baked herself in the Camphill kitchens (we'll give them a donation for each cake). So, hopefully we'll not only have Mary, but we'll have Mary's cake as well!
I hope if you come in that you'll make her feel welcome, and also that you'll try a piece of her cake. She's very, very proud of it.
Technorati tags: Dublin, special needs, cake, Camphill
This entry was posted on Wednesday, August 25th, 2010 at 10:45 am and is filed under Dublin. You can follow any responses to this entry through the RSS 2.0 feed. You can leave a response, or trackback from your own site.