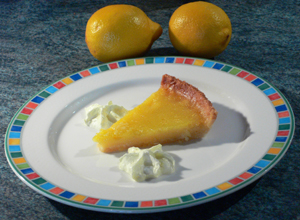 I am in the rare position of having enough coverage in the Dingle shop that I have a bank holiday weekend off. After enjoying the sun yesterday, today was bleak and rainy, and so I turned my attention to another new cookbook that I acquired – Simply Sensational Desserts by Francois Payard.
Payard, originally from Nice, is an award-winning dessert chef in NY, and I must say that his lemon tart was a huge success among my lucky family members. The only comment is that the filling didn't really fill the crust, but then my pie dishes are 10 1/2 inches, which is probably bigger than he'd expect. I'd increase the volume of ingredients next time.
Also, similar to my rant on flour, it's impossible for me to find normal confectioners sugar in the shops (and we ran out of it in production). What they have here is icing sugar, but it's laced with all sorts of other ingredients and behaves very strangely. I substituted caster sugar in the crust, and it seemed to work ok although the dough was a bit delicate. I'd probably put a little less in next time and add more flour.
I will try the chocolate tart next and let you know how I get on, but on the balance of one trial, I highly recommend the book. The other recipes look delicious!
Technorati tags: cookbook, lemon, tart, cooking, pastry, dessert