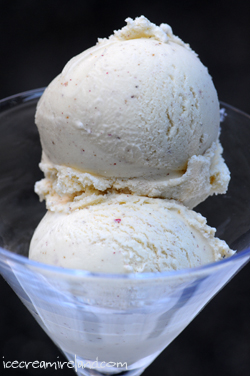 I love pink peppercorns. They have an amazing flavour – peppery, fruity, complex, and we thought they'd make a great ice cream. Interestingly, pink peppercorns are not actually peppercorns, but rather dried berries from the Baies rose plant. They come from Madagascar, where many great things are grown.
This ice cream is spicy, and frankly it's a bit confusing on the palate. I think it's because of the complexity of flavour that reminds one of something and yet is a bit elusive. I'll give the recipe here, but it's a bit of a work in progress. We're thinking of doing another version with strawberry, and I'll let you know how we get on!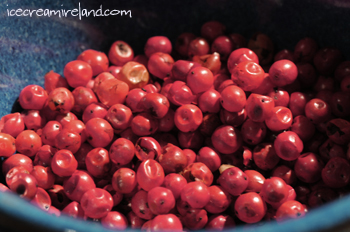 MURPHYS PINK PEPPERCORN ICE CREAM
Ingredients:
• 120g sugar
• 5 egg yolks
• 220 ml cream
• 220 ml milk
• 2 teaspoons ground pink peppercorn
What to do:
1. Beat the sugar and egg yolks and until it thickens and lightens in colour.
2. Bring the milk to a low simmer.
3. Beat the milk into the egg/sugar mixture in a slow stream.
4. Pour the mixture back into the pan and place over low heat.
5. Stir continuously until the custard thickens slightly (around 65-70C) and just coats the back of a spoon. Don't over-heat, though, because at around 76C you will scramble the eggs!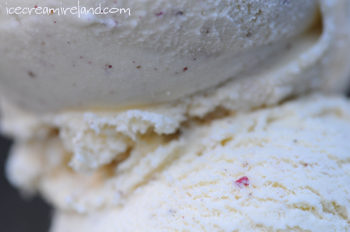 6. Immediately remove from the heat.
7. Allow to cool.
8. Stir in the peppercorns.
9. Whip the cream until it has doubled in volume (you should have soft peaks – don't over-whip).
10. Fold (gently stir) in the custard.
11. Freeze using a domestic ice cream machine.
You can also just cover and place in the freezer, stirring every few hours.
Yield: 8 servings
Notes:
1. It's hard to say how spicy your peppercorns would be, so you might need to add more or less!
2. To pasteurise the eggs, heat the custard to 73C and maintain that temperature for at least 5 minutes. Use a cooking thermometer, though, and keep stirring! If the custard goes any higher than 76C, the eggs will scramble. Immediately cover and place in the freezer until cool.
Technorati tags: pink peppercorn, spice, ice cream, recipe