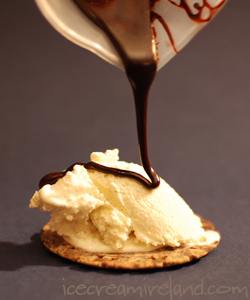 We have been serving chocolate and caramel sauce in our shops for the past six years, and I feel we've pretty much perfected them. Hot fudge sauce, however, is something that I miss from time to time. It can be time-consuming to make, but it is so tasty that I've been considering adding it to the mix. I feel I'm pretty close with the following recipe, and I've also worked on a method of cutting the time down for preparation (some recipes take upwards of two hours to make). If you want to try it:
Hot Fudge Sauce
Ingredients:
150g 70% chocolate
100g butter
100g cocoa
300g sugar
150ml cream
100ml milk
What to do:
1. Melt the butter and chocolate in a double boiler over simmering (not boiling) water.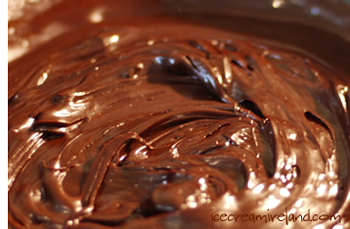 2. Add the cocoa and stir until it is completely integrated.
3. Keep the chocolate mix warm in the double boiler.
4. Combine the sugar, milk and cream in a saucepan over medium heat, stirring until the mixture boils. Remove from the heat.
5. Add the hot milk mixture to the warm chocolate mixture as follows – add one sixth of the liquid, stir until the liquid is completely incorporated, then add the next sixth, stirring again, and continue thus until all the liquid has been added. Â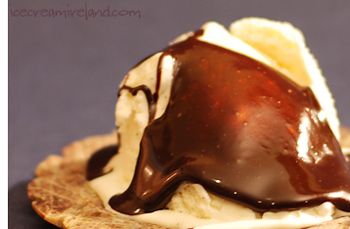 6. It will clump at first, and it may separate, but keep adding a bit of the milk mixture and stirring it in until the sauce is glossy and smooth.
7. Serve the fudge sauce warm over ice cream! 
Note: This makes quite a bit of sauce, but you can keep it refrigerated for a couple of weeks (if you have that kind of self-control!) 
Technorati tags: hot fudge, sauce, chocolate, ice cream, recipe