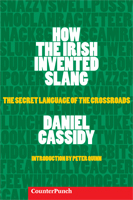 A few weeks ago, I heard Daniel Cassidy on the Last Word with Matt Cooper. It was a lively interview, and Cassidy's premise – that many American slang words originate from the Irish language – was an intriguing one.
I ordered the book, and it's arrived. It's more scholarly that I would have expected from the interview (turns out that Cassidy is a professor and founder of the New College of California), and the historical as well as etymological background is well-drawn. What's really astonishing is that so few words in English dictionaries are credited to Irish (most of Cassidy's English words are listed "origin unknown," and when you think about the huge diaspora, it's a certainty that the Irish would have contributed words to English.
Some examples from the book:
Baloney – Béal Ánna, meaning silly, foolish talk
Boss – Bás, meaning boss, best, very good
Brag – Bréag, meaning a lie, exaggeration, deception
Cop – Ceap, meaning a protector or chief. The verb "ceap" has meanings including to catch or intercept.
Daddy – Daidí­
Gab – Gab, a chattering mouth
Goon – Guan
Hick – Aitheach, meaning a peasant, a churl
Jazz – Teas, meaning heat, passion, excitement
Lucre – Luach Áir, meaning reward of gold
Shack – Teach, meaning house
Shanty – Seantigh, meaning old house
Slob – Slab, meaning mud or a dirty or slovenly person
Smashing – 's maith sin, meaning "it is good"
So long – Slán
There are many more, and I highly suggest the book. At the very least it's bound to lead to some interesting conversations!
Technorati tags: book, Irish, slang, word, Daniel Cassidy