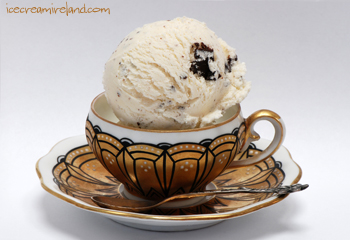 For today's Irish Times article, I wrote about our team in prodution (the photo below shows Cian, Christophe, and JP), running things in August, and of trying to squeeze in new flavours in our busiest time of year.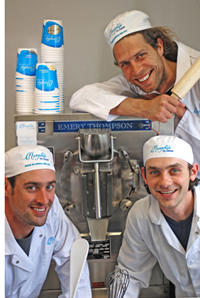 The recipe came from an idea from Cian, our Dingle shop manager, who helped as we worked through it. It's very tasty!
Cian's Chocolate Coffee Crunch
Ingredients:
1 cup sugar
5 egg yolks
1 3/8 cups cream
1 1/8 cups milk
1/4 vanilla bean, cut lengthwise
1/3 cup espresso beans
2/3 cup 70% chocolate (100gm)
What to do:
Melt the chocolate in a double boiler.
Break the coffee beans into smallish pieces using the bottom of a bowl or a food processor.
Mix the crushed beans into the chocolate and spread on a baking tray to harden.
Beat the sugar and egg yolks together until thick and pale yellow.
Bring the milk to a simmer.  Remove from the heat.
Beat the milk into the eggs and sugar in a slow stream.
Pour the mixture back into pan, add the vanilla bean and place over low heat. Stir until the custard thickens (around 70C).
Immediately place in the refrigerator until cool.
Remove the vanilla bean.
Cut the hardened chocolate into small pieces then use a spatula to separate from the baking tray. Stir into the custard.
Whip the cream and fold into the mix.
Freeze using a domestic ice cream machine, or cover and place in the freezer.
Technorati tags: coffee, ice cream, chocolate, dessert, recipe, Irish Times