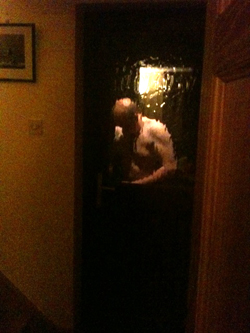 At 3:30 am, on Sunday morning, my partner woke me with a terrified whisper – "There's a man in the house!"
My first thought was that we were being robbed, and (after checking that little Róisín was safely asleep) I pretended to ring the Gardai (my phone was charging downstairs), telling them in a very loud voice to come around. There wasn't any sound downstairs, so I  went to the stop of the stairs, switching on the light. There, looking up at me, was a big man, perhaps in his late 30s.
What struck me, with a surge of adrenaline, is how lives could be changed with such a moment. If I hit him and he fell and hit his head, I'd be in serious trouble. If he had a knife, I'd be in serious trouble. Either way, things wouldn't turn out well. It was soon apparent, however, that he was drunk to the point of hardly being able to speak. That made his being in the house less sinister, but still I had no way of knowing whether or not he was a violent or a gentle drunk. I bundled him out the back door and locked it.
I rang the Gardai in Tralee (Dingle Gardai go off duty at 3:00 am), and they told me once he was outside there shouldn't be a problem. I'm guessing they had more serious matters to deal with on a Saturday night. Meanwhile, outside, the man started taking off his clothes, and he kept trying to open the door (although not in a violent manner).
Worried that he'd die of exposure or fall and hit his head, I went outside. Again, he didn't seem violent, but he was so drunk that it was hard to know what he would do. I told him this wasn't his house, helped him into his clothes, and brought him to the front of the house. I asked him where he lived or where he was staying, for I would have walked him home, but he couldn't tell me. I asked him if there was someone we could ring, but he shook his head. All he said was, "My wife will kill me." Finally, he stumbled off down the street toward town.
We had trouble falling back to sleep, but in the scheme of things, we were quite aware that although shocking to have someone come into the house, no harm had been done. I had forgotten to lock the front door, and my partner made me promise I wouldn't forget again.
The episode made me think about Ireland and drink. Although per capita drinking has fallen in Ireland, we still top the table in terms of binge drinking. It's the latter that landed the fellow into our house and has been the cause of so many problems with fights, with full accident and emergency wards and heartache for friends and family. We still don't take binge drinking seriously as a nation, and a great number of people don't think it's a problem at all.
I think it's a problem, and I've thought that for a while. I don't have any answers, and I'm not going to make any campaign on the issue. I'm not prudish about drinking, and in fact had been to the pub myself the same evening for a couple of pints and some conversation. A couple of pints, however, is a very different thing from drinking yourself into a state where you don't even know where you live.
Besides making me understand the preciousness of one's family and how much we need the feeling of safety in our homes, the man in our house also helped to clarify thoughts about our own shops.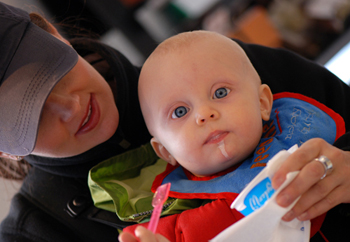 We've talked before about whether we should get a wine license or how cool it would be to serve alcohol over ice cream (vanilla with a shot of Bailey's, etc). I think now that I'm very happy that we have a safe, alcohol-free, family environment. We're not going to change anything about Ireland's difficult relationship with drinking, but I feel good that we can offer a little alternative world, where the only binge will be an overindulgence of ice cream, chocolate or coffee.