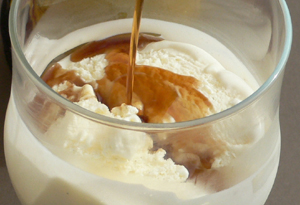 For me alcohol and ice cream are natural companions. If it wasn't for the licensing laws in the country, I would love to be able to serve alcohol over ice cream (not to mention with coffees) for the customers in our shops. Alas, that is not to be!
However, it is not illegal to do it at home, and it makes a very adult and heady dessert. You can either pour in some booze first and then add the ice cream or simply serve a shot over the ice cream as you would a sauce.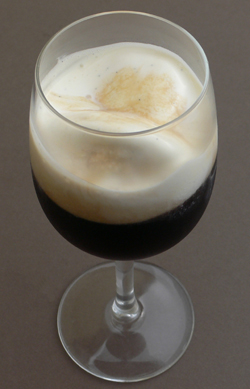 The Top Ten Combinations that come to my head are:
1. Chocolate ice cream with Cointreau
2. Coffee ice cream with Baileys
3. Vanilla ice cream with Kahlua
4. Mango sorbet with tequila (I favour Sauza) and a bit of lime
5. Raspberry sorbet with Vodka (A good brand like Grey Goose)
6. Cognac with almost anything
7. Blackcurrant sorbet with Guinness
8. Chocolate with whiskey (Irish whiskey is great since it's not over-powering).
9. Pear, peach, strawberry, or black currant sorbet with champagne.
10. Port with just about anything.
I'm sure you can think of many more!
Technorati tags: alcohol, sorbet, dessert, ice cream, ireland