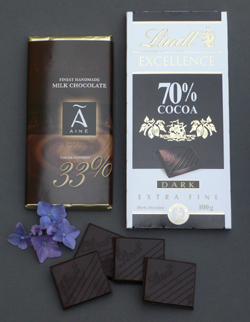 I was lucky enough to grow up with a grandmother living on the border of Italy and Switzerland, and every time she visited, she brought a huge sack of chocolate. I guess it's her fault that I turned into such a chocoholic!
Her chocolate bars of choice were Frey and Lindt, and at the time they were exotic luxuries. When we first opened the shop here, Lindt was still a rarity in these parts, and when we wanted to buy some, Lindt Switzerland directed us to their English subsidiary, who treated us in a beastly fashion, and we could only infer that they had no interest in our custom. Last year, however, Lindt put a salesman in Ireland. He was very friendly and pro-active, and we brought in their chocolate.
It has sold well for us, and it certainly had nostalgia value having grown up with it. But the salesman has proven to be too good, and now Lindt is in every shop around, so we're considering dropping it.
There is more and more variety in Irish chocolate, and Aine's now have a range of bars, including a diabetic bar. It's always good to support Irish producers, and we've brought in some to see how they sell (we've carried her boxes of truffles for some time).
In any case, we won't be lacking for variety when it comes to chocolate bars, for we have a huge range of Valrhona, and my brother and I are completely hooked on the stuff!
Technorati tags: chocolate, Irish, Ireland, Valrhona, Lindt, Aine