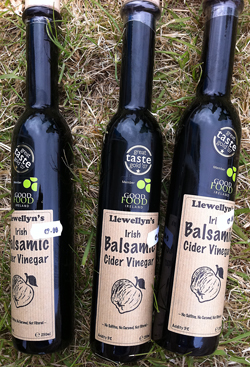 One of the nicest food products I've come across this year is a Balsamic Cider Vinegar, made from apples by Llewellyn's. It's a product that everyone should have in their kitchen, because the apple flavour comes through nicely, and it's beautiful on strawberries or in a salad.
We've had it in our shops over the summer, and since we're reaching the end of our stocks now, I thought I'd post a recipe for anyone who hasn't been able to taste it.
It's not been the most popular ice cream we ever made, but I really love it, and I think it makes a great match for a caramel pudding or strawberries. The acidity of the vinegar cuts the sweetness, and it has a rich, mysterious flavour.
Murphys Balsamic Ice Cream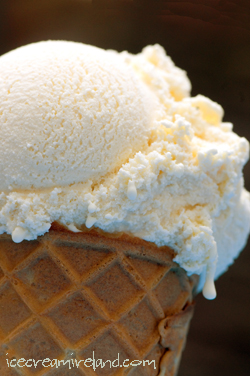 Ingredients:
50 ml balsamic vinegar
130g + 2 tablespoons sugar
5 egg yolks
240 ml cream
200 ml milk
What to do:
In a small saucepan, warm the balsamic and 2 tablespoons of the sugar until the sugar is dissolved.
Remove from the heat and allow to cool.
Beat remaining sugar and egg yolks together until pale yellow.
Bring the milk to a low simmer.
Remove from the heat and beat the milk into the egg and sugar mixture in a slow stream.
Pour the mixture back into the pan and place over low heat.
Stir continuously until the custard thickens slightly (around 65-70C) and just coats the back of a spoon. Don't over-heat, though, because at around 76C you will scramble the eggs!
Immediately remove from the heat.
Stir in the balsamic and sugar mixture.
Whip the cream until it has doubled in volume (you should have soft peaks – don't over-whip).
Fold the cream (gently stir) into the custard.
Freeze using a domestic ice cream machine, or cover and place in the freezer, stirring every few hours to break up the ice crystals.
If you're using a domestic ice cream machine, transfer to a freezer-proof covered container when the ice cream has achieved a semi-solid consistency (around 15 minutes). Place it in the freezer, and continue to freeze until it is solid.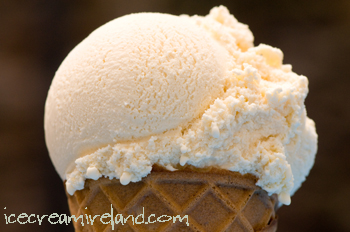 Yield: 8 servings.
Notes:
If you use a different vinegar, you might need slightly more or less, depending on the strength of the flavour.
To pasteurise the eggs, heat the custard to 73C and maintain that temperature for at least 5 minutes. Use a cooking thermometer, though, and keep stirring! If the custard goes any higher than 76C, the eggs will scramble. Immediately cover and place in the freezer until cool.
Technorati tags: balsamic, vinegar, apple, ice cream, recipe