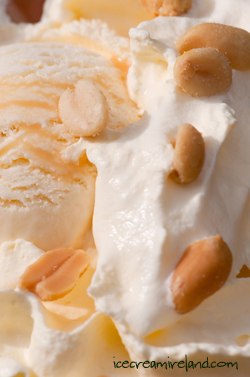 A few days ago, we were playing with sundaes in our Dingle shop. We reached the stage where our bellies were groaning from all the tasting, when Sara (wearing green hat in photo below, with Claire), who happened to be working that day, piped up and said, "Yeah, those are good. But do you want to taste something amazing? It's a peanut sundae with honeycomb ice cream."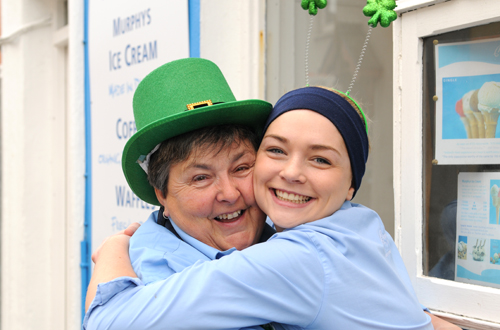 I politely said, "Please make one for us," even though I was thinking, "I couldn't really eat another bite of a sundae. And peanut? Hmmm. Doesn't sound great. Where's the subtlety in peanuts? Where's the panache? Besides, it doesn't have chocolate in it."
Of course the last bit is my personal criteria for any dessert, even though I try to be open minded and make sure we offer all sorts of things in our shops. After all, I've been reliably informed that there actually are people out there who don't always choose the chocolate option on the dessert menu.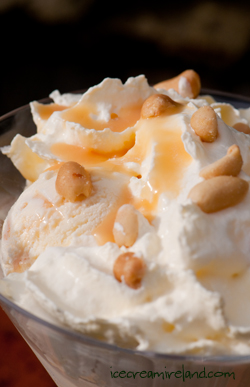 Anyway, Sara waltzed off to the shop for some peanuts, whipped up the sundae, and presented it in front of us. In went tentative spoons, and all I can say upon tasting it is that Sean, Niamh and myself all had one of those transcendent moments where you think you've never tasted anything so amazing in your whole life. We couldn't even speak. Our full bellies forgotten, we just ate until every last bit of it was gone.
I don't know why it is so good. There's nothing really special in it. There's no secret ingredient or bit of culinary whizz bang. Whatever way the peanut, cream and the caramel meld, both in terms of taste and consistency is simply amazing.
Believe me, this will be on our menus very soon…
Thanks, Sara!
Technorati tags: peanut, caramel, dessert, ice cream, sundae