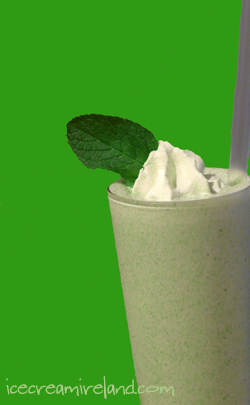 St. Patrick's Day is just around the corner, and if you want a hint of green in your dessert to celebrate, you have a couple options. You could grab a bottle of green food colouring and add it to most any dessert that is light in colour – from whipped cream to vanilla ice cream to creme caramel. It's effective, but it's something we would never do at Murphys. We're stubborn that way, and on point of principle, we never use colouring – natural or otherwise. Of course, that limits the options for a green Patrick's Day dessert of flavour.
However, it can be done, and the obvious candidates for green flavours are matcha (green tea) or mint. The latter makes an especially tasty milkshake if you are a minty kind of person, and I like mine strong. Blending fresh mint leaves with ice cream and milk makes also creates a pleasing light green hue that gives a nod to the patron saint of Ireland. Here's how you can do it:
Fresh Very Minty Milkshake
Ingredients (serves 1):
2 scoops vanilla ice cream
1 cup milk.
30 fresh mint leaves (removed from the stalk)
What to do:
1. Put the ice cream, mint and milk in the blender or food processor and allow it to soften for at least two minutes. Blending it straight away will leave lumps of ice cream in the shake.
2. Blend until smooth, on high speed.
3. Garnish with cream and a mint leaf.
4. If you really like mint, add more leaves!
Technorati tags: St. Patrick, day, milkshake, mint, Ireland