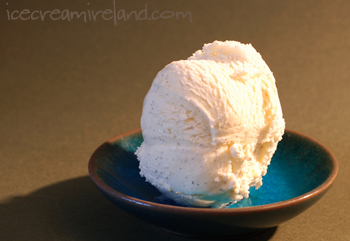 Vanilla ice cream is one of the most popular but at the same time most under-appreciated flavours. In our shops, people often order it apologetically, half expecting criticism at being unadventurous. However, if I visit an ice cream shop, I will almost always sample their vanilla. When you are making a strong flavour, perhaps you can cover up any inadequacies. With vanilla, however, it is either good or it is not, and you get the full flavour of the base ice cream. There's no hiding.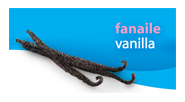 Good vanilla ice cream is not only hard to make, it can also be very expensive if you use the real thing. We use four different natural vanillas in our ice cream to get the right balance – two types of bean, and two types of essence. Both of the essences are over 100 euro a litre – one is 160 a litre. It's the most expensive ingredient we use.
When making vanilla at home, it's not necessary to use four vanillas. The following recipe calls for a single vanilla bean. Sometimes it's better not to over-complicate!
Murphys Single Bean Vanilla Ice Cream
Ingredients:
1 cup Sugar 
5 Egg Yolk 
1 3/8 Cups Cream
1 1/8 Cups Milk 
1 Vanilla bean
What to do:
Beat the sugar and egg yolks together until thick and pale yellow. 
Split the vanilla bean lengthwise and put in a saucepan with the milk.
Bring the milk to a simmer. Remove from the heat.
Remove the vanilla bean.
Beat the milk into the eggs and sugar in a slow stream.
Pour the mixture back into pan, add the vanilla bean, and place over low heat. 
Stir until the custard thickens (around 60C).
Remove the vanilla bean and scrape the seeds from it with a spoon or blunt knife. Stir the seeds into the custard, using a whisk to disperse them evenly.
Allow the custard to cool.
Mix in the cream, beating for one minute.
Freeze using a domestic ice cream machine, or cover and place in the freezer.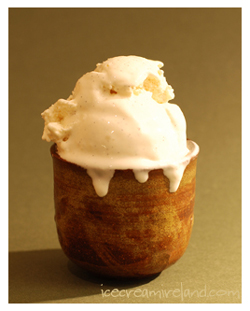 6 Servings
Notes: 1. If you don't have a vanilla bean, you can substitute with vanilla essence. It's hard to say how much, since the essences vary so much. Mix it into the cool custard in small amounts until you have the right amount of flavour.
2. To pasteurise the eggs, heat the custard to 73C and keep at that temperature for three minutes. Use a cooking thermometer, though, and keep stirring! If the custard goes any higher than 76C, the eggs will scramble. Immediately cover and place in the freezer until cool.
Technorati tags: vanilla, bean, essence, ice cream, recipe, Irish