Off License – Gourmet Shop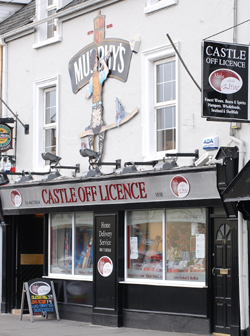 One of the new developments in the Irish gourmet food world is the emergence of off licenses with a selection of gourmet foods. The new Castle Off License in Castle Street, Tralee is a good example of this. Besides a good range of booze, they sell local smoked salmon, Irish cheeses, chocolates, and our ice cream among other things. It's definitely worth a visit.
I think this trend makes sense, especially if the off license specialises in fine wines or upscale spirits, for those customers would tend to be interested in unique foods as well. There certainly are other off licenses around the country that are doing the same – the Celtic Whiskey Shop in Dublin was one of our first customers…
Technorati tags: Dublin, Tralee, off license, gourmet, Ireland
This entry was posted on Wednesday, January 10th, 2007 at 6:07 pm and is filed under Ireland. You can follow any responses to this entry through the RSS 2.0 feed. You can leave a response, or trackback from your own site.