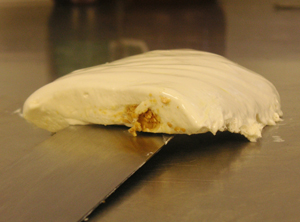 Since we only use the egg yolks for the ice cream, we've been looking at ways of using left-over egg whites. Cian, one of our Dingle shop team suggested nougat, so I've been working on a recipe and techniques to see if we could come up with something tasty.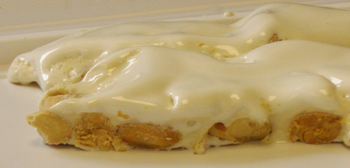 Called "torrone" in Italy and "turron" in Spain, this dessert is most likely of Arab origin although some people claim it came from Crete. However, given the almonds and honey in it, I would say that it has Arabian roots.
In any case, I've been playing with different recipes over the last couple of days, and I have some edible rice paper ordered, which should make it look more professional. I'll post the recipe as soon as I have it figured out, but in the mean time, these trial runs are going into some really tasty ice cream for the shops!