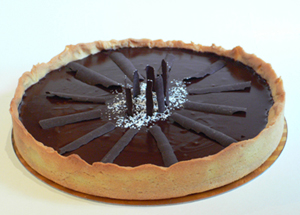 Today, with the rain pouring down and the murky half-light of West Kerry taking away any sense of summer, I decided to cheer myself up by baking. I did two chocolate tarts (shown above) for the shops as well as a pair of lemon tarts.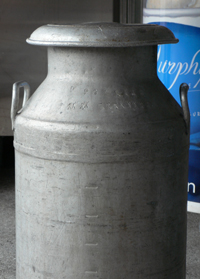 I was quite pleased with the results. The chocolate tart is based on the Payard book I've been talking about, although I made a few changes – another egg yolk, a slightly different pastry, and a combination of bitter and dark chocolate.
Mind you, there was more to be cheerful about, since we took our first delivery of Kerry Cow milk from a local farmer, and we made a batch of ice cream.
It's amazing how much changing a single ingredient changes the entire ice cream. The Kerry Cow milk is much creamier, and it will take a bit of playing to get it right. Still, for a first run, we were quite pleased with it.
One of the flavours JP made from it was Stewed Apple and Galliano. It's a great combination, and I must commend him!
Technorati tags: chocolate, lemon, tart, baking, pastry, milk