Archive for September, 2012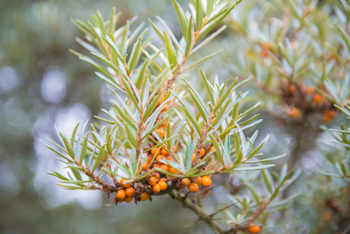 There are all sorts of tasty things on bushes at this time of year, and my mother suggested I do something with Sea Buckthorn (Hippophae rhamnoides). A friend of hers had them in abundance, and so we went out to harvest the little berries.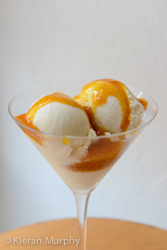 I cooked them with a bit of sugar, blended them, and then strained it to remove the seeds.
The beautiful orange berries have a remarkable taste, extremely tart and nicely earthy, but it takes a lot of work and patience (the berries are tiny, and the black seeds inside them are very large). In the end I had only a small amount of coulis.
An hour's picking with two people didn't provide enough for a single batch of ice cream, and only about 400ml of the delicious coulis. If you have some around, it could be a great touch for a dinner party, though…
You are currently browsing the Ice Cream Ireland blog archives for September, 2012.
Recent Comments

Grannymar: Sounds wonderful, Kieran, but I feel left out. Maybe by the...
Grannymar: Wrong colour for today, Kieran! Now I have an excuse to go down to...
Courtney: This sounds extremely appetizing if you are a fan of fresh mint,...
Courtney: This sorbet looks really light and perfect for a summer occasion....
Courtney: This ice-cream sounds perfect for the spring and summer seasons....
Courtney: This butterscotch recipe looks very interesting. The first thing...
Courtney: This recipe looked really good which is what initially grabbed my...

Recent Posts

Categories

Archives