Archive for September, 2010
I just came across this on-line, Dingle, the Helpful Ice Cream Cone Delivery Dog, by Audrey Kinsella. What's not to like? Dingle, ice cream, and dogs. The author is living with M.S. and it's a book about someone with a disability accepting help. Seems like a winner to me.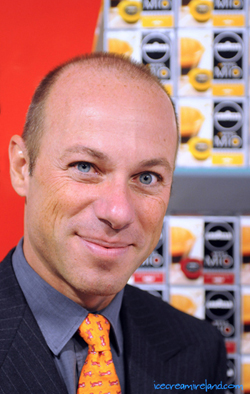 Today, I met Giuseppe Lavazza, who is Vice President and Marketing Director for the family business. He was in Dublin to launch the Modo Mio in Brown Thomas. I was interviewing him for the Irish Times, as part of a piece on 3rd Wave coffee. It was an good chat, and it was interesting to discuss trends in coffee culture, sustainability and the return to tradition (albeit with more science). More on that later!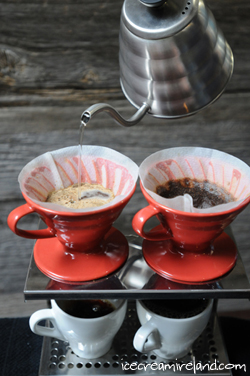 With help and inspiration from Colin Harmon, we've be playing around with single-serve filter coffee in our Wicklow Street shop in Dublin, and we'll roll it out soon in Kerry.
I've always thought an americano is not a good drinking coffee – basically it's a watered down espresso, and it tends to be both bitter and watery. We used to offer French press – plunger – coffee to customers for drinking purposes, but it never really caught on.
The single filter above is a brilliant way to highlight the different properties of the various beans we're getting our hands on – brewing a cup is a bit of a slow process, but the rewards in terms of drinking are great.
One of the best things about it is that we can also teach customers how to make it at home!
For tips and more on making a good filter coffee, see here, here, here, and here.
You are currently browsing the Ice Cream Ireland blog archives for September, 2010.
Recent Comments

Grannymar: Sounds wonderful, Kieran, but I feel left out. Maybe by the...
Grannymar: Wrong colour for today, Kieran! Now I have an excuse to go down to...
Courtney: This sounds extremely appetizing if you are a fan of fresh mint,...
Courtney: This sorbet looks really light and perfect for a summer occasion....
Courtney: This ice-cream sounds perfect for the spring and summer seasons....
Courtney: This butterscotch recipe looks very interesting. The first thing...
Courtney: This recipe looked really good which is what initially grabbed my...

Recent Posts

Categories

Archives