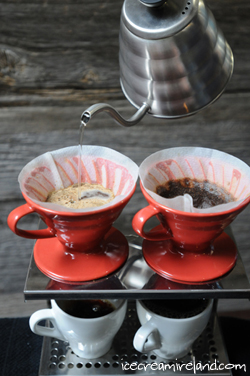 With help and inspiration from Colin Harmon, we've be playing around with single-serve filter coffee in our Wicklow Street shop in Dublin, and we'll roll it out soon in Kerry.
I've always thought an americano is not a good drinking coffee – basically it's a watered down espresso, and it tends to be both bitter and watery. We used to offer French press – plunger – coffee to customers for drinking purposes, but it never really caught on.
The single filter above is a brilliant way to highlight the different properties of the various beans we're getting our hands on – brewing a cup is a bit of a slow process, but the rewards in terms of drinking are great.
One of the best things about it is that we can also teach customers how to make it at home!
For tips and more on making a good filter coffee, see here, here, here, and here.