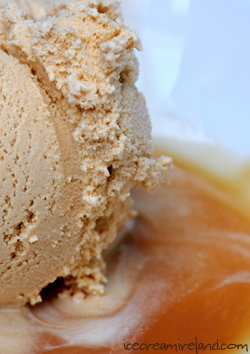 One of the trickiest parts of our business is the following conflict/contradiction:
People always want new ice cream flavours, but they also hate losing flavours they like.
We're always asked what's new, and at the same time we're asked constantly to bring back ice creams we've made, sometimes ten years ago – "Would you ever make more of that licorice and vodka ice cream I loved so much?" Some of the flavours are really best left relegated to the ice cream dust bin of history (in some cases that's where most of the batch ended up anyway, since so few people liked it). In other cases, we do bring back flavours, such as coffee (below), at least on a temporary basis, if there is enough clamour.
In any case, this is just a lead in to the fact that we're going to change four flavours very soon, so get them while you can! Two of them (sea salt and burnt caramel) have really resonated with many customers. However, it's time to freshen things up a bit, so here's what's going to happen:
Out: Sea salt, burnt caramel, Kilbeggan whiskey, mango sorbet.
In: Real lavender, caramelised honey, lemon sorbet, coffee.
We hope you'll enjoy the new flavours, and if you really, really miss the ones we're removing, let me know…