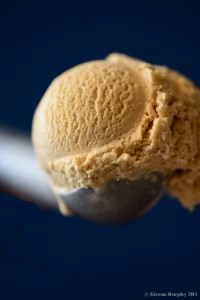 Irish people love sweet things, and butterscotch is up there with most everybody's favourites. It's an easy flavour to make and a nice alternative to caramel. Don't expect it to be around very long.
It's a bit unclear whether the name derives from Scotland, where it probably originated, or whether it's a derivative of "scotched" or "scorched" butter. Either way, butterscotch makes a nice topping for ice cream and brings a deep earthy flavour to ice cream.
I've found it makes little difference to flavour whether the butter and brown sugar is caramelised, so don't worry about that part. We'll simply be making a sweet, buttery ice cream!
Murphys Butterscotch Ice Cream
Ingredients:
110g brown sugar
5 egg yolks
220 ml cream
300 ml milk
30 g butter
1 tsp. vanilla essence
1/2 tsp salt
What to do:
Beat the sugar, salt and egg yolks together until thick and pale yellow.
Bring the milk and butter to a low simmer, stirring until butter is melted.
Beat the milk & butter into the eggs and sugar in a slow stream.
Pour the mixture back into the pan and place over low heat.
Stir continuously until the custard thickens slightly (around 65-70C) and just coats the back of a spoon. Don't over-heat, though, because at around 76C you will scramble the eggs!
Immediately remove from the heat.
Refrigerate overnight.
Stir in the vanilla.
Whip the cream until it has doubled in volume (you should have soft peaks – don't over-whip).
Fold the cream (gently stir) into the custard.
Freeze using a domestic ice cream machine, or cover and place in the freezer, stirring every few hours to break up the ice crystals.
Yield: 8 servings
Note: To pasteurise the eggs, heat the custard to 73C and maintain that temperature for at least 5 minutes. Use a cooking thermometer, though, and keep stirring! If the custard goes any higher than 76C, the eggs will scramble. Immediately cover and place in the freezer until cool.