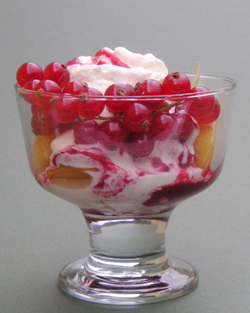 At the suggestion of one of our good customers, I played around a bit with Peach Melba over the weekend in the odd hours I had out of the shop.
Invented in the 1890s by the French chef Escoffier, who was working at the Savoy in London, Peach Melba was a dish made for an Australian opera diva – Nellie Melba. It consists of poached peaches, vanilla ice cream, and a sauce made from raspberries and redcurrants, although it's usually just made with raspberry sauce.
I don't know if it will make an appearance in our shops, as I would be loath to use canned peaches, and it would be hard to keep poached peaches around the place.
You never know…
If you want to try it, here's what I did: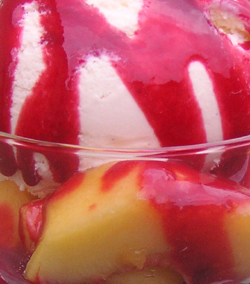 1. Peel and cut up some fresh, ripe peaches (allow a full peach per person), drop them into boiling water with a few tablespoons of sugar and leave for two or three minutes (I don't like to give them an over-cooked taste). Strain and allow to cool.
2. Puree 50g of raspberries, 25ml water, a teaspoon sugar and a squeeze of lemon juice per person. Bring to a boil in a small saucepan, then pass through a sieve and allow to cool completely. Â 
3. Put the peaches in a dish, add a scoop of vanilla ice cream, and drizzle liberally with the raspberry sauce.
4. I added some cream and garnished with fresh red currants in honour of the famous French chef…
Technorati tags: peach, Melba, raspberry, ice cream, vanilla, how to