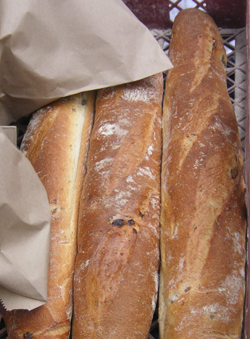 Dingle has hardly been left out of the growing boom in farmer's markets, and the Friday market is definitely worth a look and nibble for anyone in town on that day.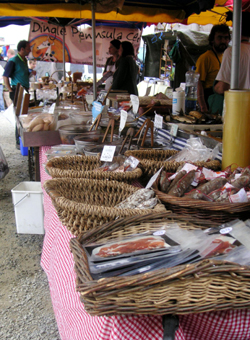 Set on a vacant lot, between the back of Garvey's Supervalue and O'Flaherty's Pub, it houses around twenty stalls.
With offerings from Maja's Dingle Peninsula Cheeses and Olivier Beaujouan's seafood products to vegetables, meats, bread and baked goods, it's definitely a place to stock up for a picnic lunch.
There are also some craft stalls including Britta's excellent woolen jumpers.
The market has definitely been gaining in popularity over the past year or so, and yesterday there was a big crowd of customers.
It's over by mid-afternoon, so it's worth getting in early…
Technorati tags: Dingle, farmers, market, craft, food, Kerry