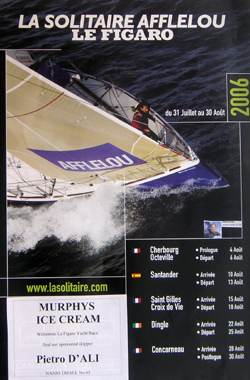 We've had the sailors from the yacht race La Solitaire Affelou Le Figaro in town for the last few days, and they sailed back toward France today on their final leg.

We helped sponsor one of the skippers, Pietro D'Ali and fed him a bit of ice cream…
La Figaro is a gruelling solo race that's as much endurance test as anything else. The sailors have identical boats and just themselves to get them through each multi-day leg.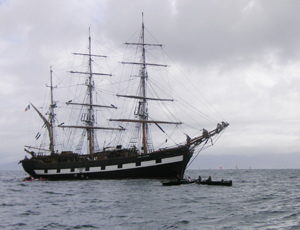 To get an update on how Pietro and the other sailors are doing, check out the race's stunning website that has gps positions tied to a map and the actual routes of all the boats.
The Jeannie Johnston was in the mouth of Dingle harbour today to help them on their way along with Fungie and a few local naomhogs, but now it's up to the sailors to make it safely back to France in the fastest possible time.
Technorati tags: Dingle, yacht, race, La Solitaire, Figaro, France