Breast Milk Ice Cream?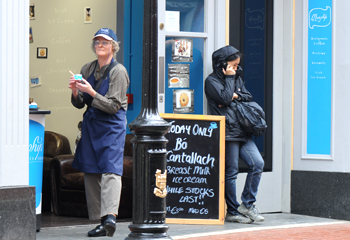 Back in the Autumn, we had a television crew in our Wicklow Street shop for what was to be a new season of the RTE comedy show, Anonymous. The gag was Amanda Brunker dressed as an old biddy, giving out samples of breast milk ice cream (it was actually our Kerry Cream flavour). Fun was had by all.
Now, however, it seems less like a gag, since PR firm Taylor Herring has this post, stating that the icecreamists in Covent Garden are actually serving up the stuff. Certainly that's bound to get some attention for them, but it wouldn't really be my thing. However, it's almost worth a flight over. Simply as a professional. Market research and all.
This entry was posted on Thursday, February 24th, 2011 at 3:53 pm and is filed under Musings. You can follow any responses to this entry through the RSS 2.0 feed. You can leave a response, or trackback from your own site.