Mini Strawberry Meringues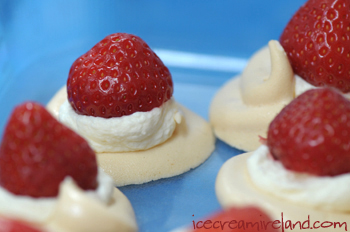 Irish strawberries are in season, and here's a real crowd-pleaser for a garden party. I tried it out on some very willing friends this last weekend!
Mini Strawberry Meringues
Ingredients:
What to do:
Make the meringue recipe, and using a piping bag (or a plastic bag – cut a 1/2″ hole in the corner) pipe the meringues into mini nests about 2 inches in diameter. Bake as per recipe.
Whip the cream.
Once the meringues are cooked, allow to cool, then add a small dollop of cream to each meringue.
Hull the strawberries, and push them into the cream (cut the larger ones into halves or quarters).
Serve, and watch them disappear!
Makes about 40
Technorati tags: meringue, recipe, strawberry, dessert, baking
This entry was posted on Wednesday, June 18th, 2008 at 2:13 pm and is filed under Other Desserts. You can follow any responses to this entry through the RSS 2.0 feed. You can leave a response, or trackback from your own site.