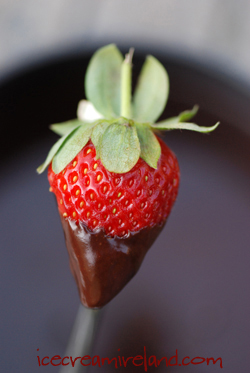 Happy Valentine's Day!
I think there is nothing more romantic than chocolate, so what better thing to make for your loved on than chocolate fondue? There is something so sensual and luxurious about melted chocolate over fruit and other tasty items, and the very act of dipping and sharing fondue makes it special.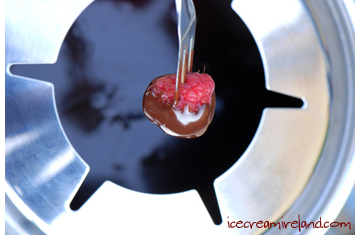 As with all things chocolate, start with quality. Find a good, dark chocolate and there is little chance that the end product won't be delicious.
I like a bit of Port in my chocolate fondue, especially when you're dipping fruit. If you want even more of a kick, add an extra teaspoon!
Here's my recipe…
Chocolate Fondue with Port
Ingredients:
200 g 70% Chocolate
200 ml Cream
2 teaspoons Port
What to do:
Melt the chocolate in a double boiler.
Warm the cream in a saucepan to a low simmer.
Remove from the heat and stir the cream into the chocolate in small parts, stirring all the time.
The chocolate will clump at first, then it should become smooth and glossy.
Stir in the Port.
Transfer to a fondue pot and enjoy!
My five favourite things to dip into chocolate fondue:
Strawberries
Bananas
Raspberries
Biscotti
Amaretti biscuits
I'm sure you can think of many other delicious things to dip!
Technorati tags: chocolate, Valentine, cough, fondue, recipe