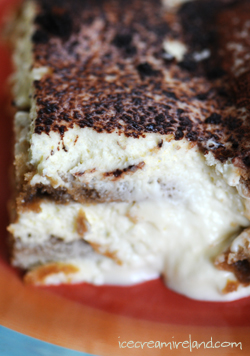 I like to think I'm quite adventuresome in the kitchen. However, with certain foods I'm an absolute traditionalist, and tiramisù is one of them. Italian for "pick me up" or "pull me up," there are some who say the dessert originated in Sienna and others who claim it's a relatively recent invention from Treviso, near Venice. In any case, it's the one dessert that so regularly disappoints me at restaurants that I have stopped ordering it unless I am absolutely certain they will do it right.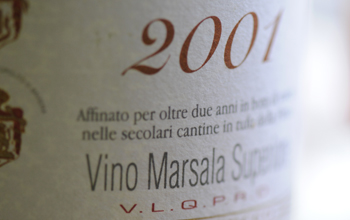 For me, tiramisù must have mascarpone, and it must have egg yolks (unlike Gordon Ramsey's and Jamie Oliver's versions – although from a catering standpoint I can understand why they don't want the risks associated with raw eggs). I don't want it with orange flavouring or variations of the alcohol (Marsala wine).
I guess you could say I want my tiramisù the way my grandmother used to serve it up at her house in the Ticino. I pressed her for a recipe shortly before she died, but she confessed that she didn't actually make it herself and had brought it in on the sly each time we begged her for more. I never found out her source.
However, my partner Manuela, who is from Venice, recently managed to retrieve her mother's tiramisù recipe. We made it at home last night, and it came out just about perfect in my eyes. Best of all, once you have the right ingredients, it's quiet easy and quick to make. If you wish to try it, the recipe is below. I'll call it Tiramisù della Mamma in honour of Manuela's mother.

Please note that this recipe does contain raw egg yolks, so it's not suitable for pregnant women, and I would suggest you use fresh, local organic or free range eggs from a source you trust.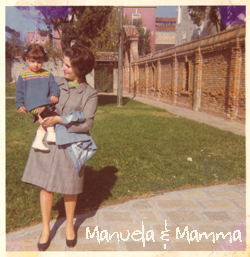 Tiramisù della Mamma
Ingredients:
3 egg yolks
80 gm + 2 tablespoons sugar
250 g mascarpone (at room temperature)
250 ml cream
1 packet savoiardi (lady fingers)
75 ml + 1 teaspoon Marsala wine
125 ml fresh espresso (cooled to room temperature)
Pure cocoa for dusting
What to do:
1. Beat 80 grams of the sugar and the egg yolks together.
2. Add the mascarpone and 1 teaspoon Marsala wine and mix until smooth.
3. Whip the cream until you have soft peaks.
4. Fold into the mascarpone/egg mixture.
5. Add the remaining 2 tablespoons of sugar to the espresso and stir until dissolved.
6. Add the remaining Marsala wine and transfer to a shallow dish.
7. Dip the savoiardi (lady fingers) into the Marsala/espresso mixture for about 5 seconds.
8. Put a layer of the dipped savoiardi into a round bowl (traditional in the Veneto).
9. Add a layer of the mascarpone/cream custard.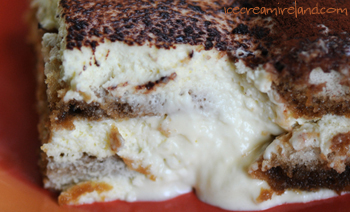 10. Add another layer of of the savoiardi, then the remaining custard.
11. Coat the top with dusted cocoa.
12. Refrigerate for at least four hours and preferably over night.
13. Bring out at least half an hour before serving to so it's not served at a chilled temperature.
Since Marsala wines and espressos vary so much in taste, it might take a bit of tinkering for you to get the balance right between the coffee and Marsala. It's part of the fun!