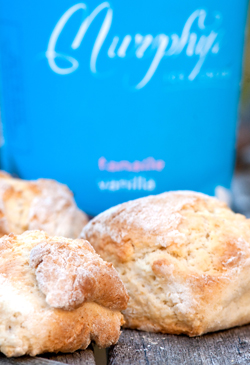 It seems to me that some Australians have an under-appreciated talent for using prepared foods as an ingredient in their cooking. I base this statement upon a few Australians I know, books such as this, and finally a great concept I came across on an Australian website – ice cream scones. The idea is to use simply ice cream and self-raising flour to make scones.
Could anything so simple to prepare actually taste good? The answer is yes. Absolutely.
The recipe below makes wonderfully light and fluffy scones, and it could be a starting point for any novice baker. I've only tested it with our ice cream, so I don't know how much of a difference the brand (i.e. the quality or ingredients in the ice cream) would make.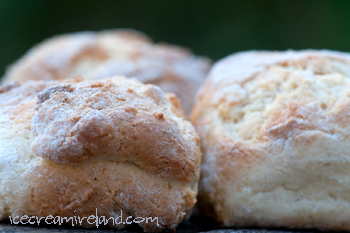 One note – The flavour of the ice cream doesn't come through as strongly as one might think (and I've tested it with chocolate, vanilla, honeycomb, etc.) That's why I've added extra vanilla as an optional ingredient. However, the scones are delicious either way!
Murphys Mini Vanilla Ice Cream Scones
Ingredients:
– 500 ml tub of Murphys vanilla ice cream
– 200 gm self-raising flour (I used Odlums)
– 1/2 teaspoon vanilla essence (optional)
What to Do:
1. Preheat oven to 180C (200C if it's not a convection oven).
2. Let the ice cream soften outside the freezer for about 10 minutes.
3. Put the ice cream and the flour in a bowl (add the optional vanilla, if you're using it).
4. Stir with a wooden spoon until you have a dough that sticks together.
5. Sprinkle a generous amount flour on the counter top to stop the dough sticking. Sprinkle some more flour over the dough.
6. Roll the dough into a tube shape, 3 cm in diameter. If the dough is too wet, sprinkle on a little more flour, but don't overwork it!
7. Cut the dough into 3 cm segments.
8. Place the segments on a baking sheet, leaving about 2 cm distance between the scones.
9. Bake for 20 minutes, until they turn golden brown.
10. Enjoy!
Yield:
1 dozen mini scones
http://www.youtube.com/watch?v=MUZc3vug7so