Dingle Corn Maze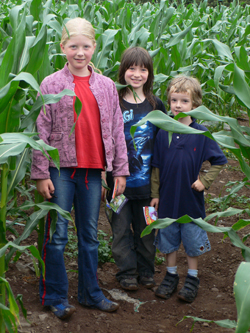 After the tours around town and the peninsula, the ice cream and the dolphin, a lovely couple of hours can be spent in Dingle in a rather unique way, especially if you like mazes or have some kids in need of entertainment. The Dingle Corn Maze, right in town, is definitely worth a trip.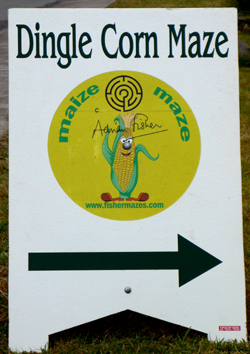 Planted across five acres by the farmer who supplies us with Kerry Cow Milk, the maze has a dinosaur theme this year and was laid out with computers and lasars. Spare a thought for Colm, the farmer, who did all of the plucking of corn for the paths by hand!
There are also picnic tables, a rope maze for kids to clamber around, finger mazes, and other bits of entertainment.
At the end of the season, the corn will go to feed the cows, but for now, with the weather changing for the worse and the beaches less of an option, the maze is a very attractive option for humans…
Technorati tags: Dingle, corn, maize, maze, summer, tourism
This entry was posted on Friday, July 28th, 2006 at 12:57 pm and is filed under Dingle. You can follow any responses to this entry through the RSS 2.0 feed. You can leave a response, or trackback from your own site.