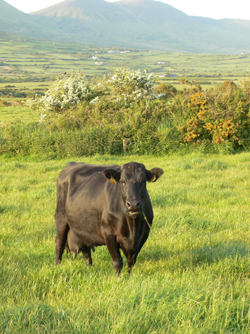 I know I might get boring writing about the Kerry cow but we've been having a great time experimenting with making ice cream with the milk of this rare and indigenous species. Apparently, there were only 409 births of Kerry calves in 2005, so you have an idea of how few of them there are left in this world.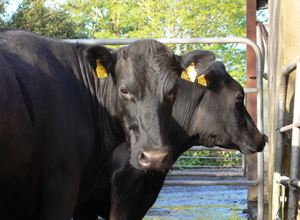 Still, they are making a bit of a come-back, and we're delighted to be doing our small part supporting the breed. Yesterday, I visited the local farmer who has an interest in such things and a few of them registered for milking, and I was allowed to help milk them.
That might sound boring for some, especially those raised in rural parts, but for a city boy, it was quite a thrill. Even though I've lived in the wilds of Kerry for years now, there is little for someone born and bred in New York that seems as interesting or as exotic as a farm.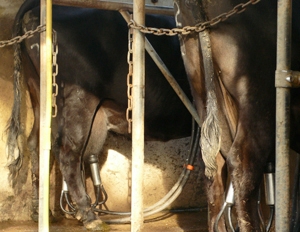 I can't say I really got the hang of it, and I needed quite a bit of assistance, but the farmer was quite polite and said it's all about the practise.
As bumbling as my hands might have been, it was a lovely experience to have my head leaning into the side of a Kerry cow and attaching the milking machine, surrounded by the sounds of the breathing of the animals and the milk pumping away.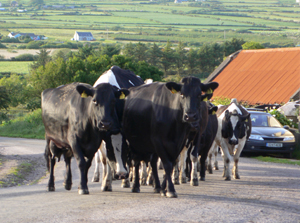 Afterwards, we walked the cows back to pasture. The evening was so glorious, with the mountains behind us and the whole countryside bathed in golden light.
At times like these, all problems seem to disappear, and there's nowhere I'd rather find myself than Dingle. I'm as happy as can be.