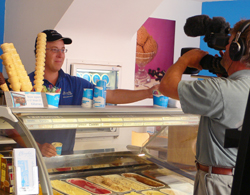 The Discovery channel is filming in Dingle as part of a series of great walks (the Mount Brandon walk is one of them).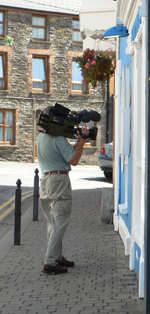 They came into us this morning and interviewed me and filmed myself and my brother inside our shop. (That's your's truly above with the smile frozen on the face.)
It's great that they are giving focus to hill-walking as the landscape here is so beautiful, and there is never any harm in a bit of publicity for ourselves. We were delighted to help out when they asked us. It will be interesting to see if the ice cream segment makes it into the final piece, and whether I committed any verbal gaffes. I did find it fun, though…
The only shame was that it was a bit disruptive to our regular customers (who made themselves scarce at the first sign of the camera), and I appreciate their patience!
One would certainly think that such a program will do tourism in Dingle no harm, though this time of year one wonders if it needs it…
Technorati tags: Dingle, Discovery, channel, Mt. Brandon, walk, tourism