Milseoga uí Mhurchú ar Imeall na Mara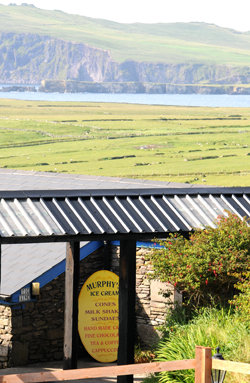 We now have a little Murphys shop in Tig Aine's in Graig, Ballyferriter for the summer, and we'll be serving ice cream, coffees, and some ice cream desserts in a cafe with one of the most beautiful views in Ireland.
Hopefully it will make a pleasant stop for anyone heading around the Slea Head Drive. We hope you can stop in!
Technorati tags: Ballyferriter, ice cream, Tig Aine, cafe, Ireland
This entry was posted on Tuesday, June 23rd, 2009 at 7:25 pm and is filed under Dingle. You can follow any responses to this entry through the RSS 2.0 feed. You can leave a response, or trackback from your own site.