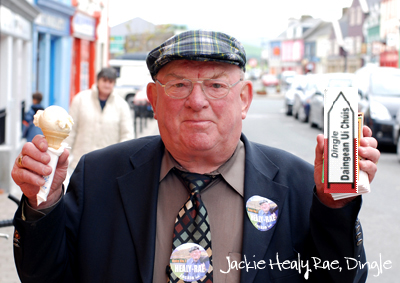 It's been a long, long road road, but the end might be in sight. Yes, five years after Minister Ó Cuiv announced that Dingle didn't exist, and almost four years after a plebiscite where the town overwhelmingly voted for Dingle/Daingean uí Chúis, it looks like there is some forward motion on the name, seemingly mostly due to Jackie Healey Rae, who insisted on it as part of joining the government. Mind you, supporters of the Dingle/Daingean uí Chúis name have been hopeful on this before and wont really believe it until it is in law.
Still, the Kerryman has a story that Minister Gormley met with Joe O'Toole and will attach a provision on the name to a bill regarding the Dublin Mayoral election. It should be published by Christmas and signed into law in the Spring.
It would be great to see the back of this issue and get on with things, and it would be a big relief if the will of the people was recognised.