Looking Hopeful on the Dingle Name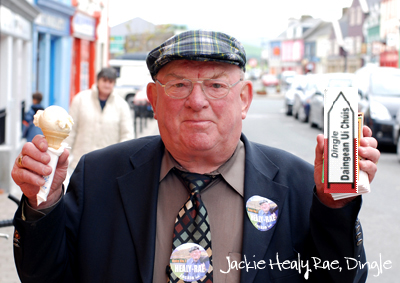 I can hardly say the ice cream we gave him when he visited on the campaign trail played any part in it, but the Examiner reported today that one of the demands from Jackie Healey Rae in lending his support to the Government was that Dingle be given back its name and that the official name would reflect the will of the townspeople and be "Dingle/Daingean Uí­ Chúis."
Apparently the Taoiseach has agreed, and all going well, the fractious and divisive battle over the name should soon be a thing of the past. Let's just hope it happens fast enough to change the signs back to stop confusing tourists over the busy summer season!
Technorati tags: Dingle name, change, Jackie Healy Rae, Kerry, ice cream
This entry was posted on Wednesday, June 20th, 2007 at 9:07 pm and is filed under Dingle. You can follow any responses to this entry through the RSS 2.0 feed. You can leave a response, or trackback from your own site.