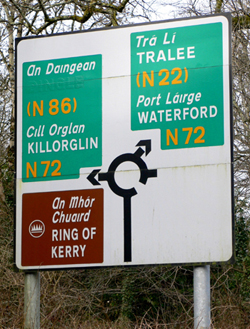 Almost everything we do centres on making our customers happy, and we pride ourselves on doing so. Recently, however, we have been getting feedback from more and more customers who are angry about something that is out of our control – road signs.

A few months ago, just before the An Daingean/Dingle/Daingean Uí­ Chúis plebiscite to decide the town name, which I wrote about here, the government taped over the name "Dingle" on all road signs leading to the town. The name of the town is in limbo at the moment, but the road signs only point to "An Daingean."
Dingle is in the Gaeltacht (designated Irish speaking area), and road signs within the Gaeltacht are in Irish only (rightly so, in my opinion). However, when tourists arrive in Killarney, Tralee, or Farranfore, which are all outside the Gaeltacht, most of them are looking for the town of Dingle. They don't know about An Daingean.
And so we listen to tales of woe from people who have wasted precious hours of their holiday driving around in circles, searching in vain for a town that is in guidebooks and on maps as "Dingle" but on the road signs as only "An Daingean." 
The Irish language is a valuable asset to the area in many ways, including tourism. Tourists will have exposure to the Irish language when they arrive in West Kerry, and it will enrich their experience. The purpose of road signs in Tralee, Farranfore and Killarney, however, should be that tourists do arrive and do so as quickly and easily as possible.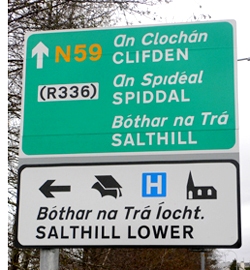 What sense does it make to remove the Dingle name from signs outside of the Gaeltacht without any coordination with maps, guidebooks, GPS systems, etc.? We are dependent on tourism in West Kerry, and the signs are confusing many of the people we are trying to attract, making their first experience of the area a negative one.
Signs are bilingual elsewhere in the country outside of Gaeltacht areas (see photo right), and I cannot understand why the same can't be true in Kerry, at least until there is agreement on the town name and full coordination with all relevant publications.
In the mean time, if you're heading this way, make sure you have a good bi-lingual map – one that has the Irish names of towns in a legible font size. Better still, get a GPS. You'll find "Dingle" listed on all of them.
Technorati tags: Dingle, An Daingean, sign, name, tourism, Kerry