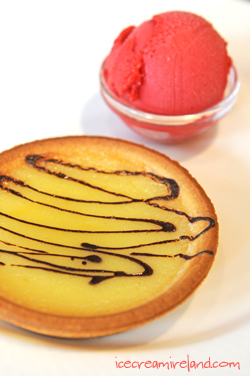 I promised a customer, who loved this tart, that I would post the recipe. It's closely based on a recipe from Simply Sensational Desserts by Francois Payard, with the only difference a slight modification in the sugar. I have found that Payard's book has given me the greatest baking success of any cookbook, so I highly recommend it.
With any tart or pie baking, the hardest part is usually the dough, and so if you want to make this the quick and easy way, buy a pie shell or some tart shells from your local supermarket. Some of them are quite tasty, and you'll save yourself a lot of time and trouble. If you do want to make the dough yourself, you can find Payard's recipe here but make sure you have flour without raising agents!
Anyway, once you have the pie shells, whether you make or buy them, you'll find this is one of the easiest recipes in the world!!!
Lemon Tart
Ingredients: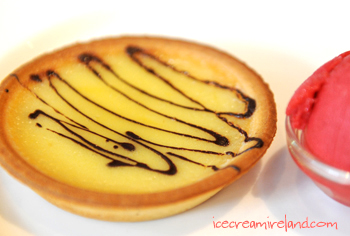 3 Lemons
45 gm butter
3 eggs
10 small pie tart crusts, or one large pie crust
130 gr sugar
What to do:
1. Preheat the oven to 150 C.
2. Bring water in double boiler to simmer.
3. Zest andjuice the lemons.
4. Put lemon and eggs in top of double boiler (before putting over heat) and whisk until smooth. Add the sugar and butter.
5. Cook in double boiler until the butter has melted and the mixture is smooth.
6. Allow to cool for 15 minutes.
7. Pour into pastry shells.
8. Bake for 8 minutes, or until the centre has become solid.
9. Decorate with a slice of lemon, or with some drizzled chocolate, as I have done.