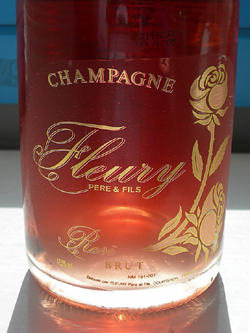 Some time ago, I stopped into Bubble Brothers asking for Marsala wine, which was ridiculously hard to find in this country (it's a great dessert wine used for tiramisu, zabaglione, etc.). They told me loads of chefs had been asking for it, but they didn't stock it.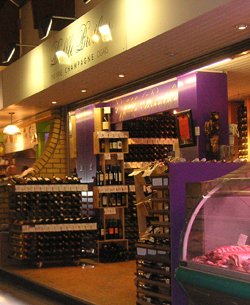 This week, I found myself in the English Market in Cork, so I chanced stopping by again. I was most delighted that they had brought it in and now stock it. Thanks, guys! (By the way, they also have an interesting blog).
Since I was surrounded by lots of wine and wanted to make the most of it, I perused the champagne section for a rose, which I had wanted to try in sorbet for a while and had promised as a birthday present for Lady K.
They were all sold out except one brand –  Fleury. This champagne is made from 100% pinot noir grapes, and since it was a brut, I was hoping it wouldn't be sickly sweet in the sorbet.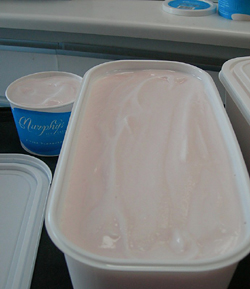 Today we opened the two bottles I brought back, and the champagne has wonderful flavour – it wasn't too sweet at all. It has the added value of being not only organic, but biodynamic, although it doesn't trumpet the fact on the front of the bottle. Apparently it was the first champagne certified by Demeter.
I finished making the pink champagne sorbet this evening (no, we didn't drink it all!). If you want to try it, use the recipe I gave here and substitute pink champagne for the Dom Perignon. Just make sure the pink champagne you choose is not too sweet!
Technorati tags: rose, pink, biodynamic, champagne, sorbet, ice cream, recipe