Pregnant Bakers and Flags in Dingle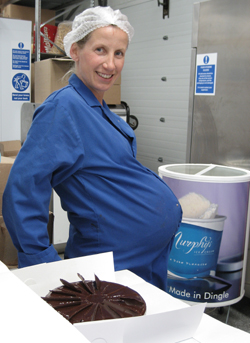 Imagine my surprise when I stopped by the production today to take care of some bits and pieces, and there was Wiebke, our baker extraordinaire (and my brother's partner), with a couple of freshly baked cakes for the shops.
She is three days past her due date, but there is no stopping her! Hopefully very soon I will be able to post some baby photos of my new niece or nephew…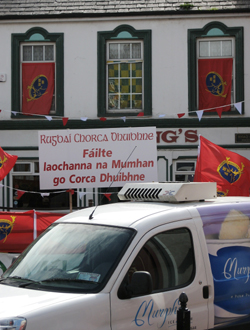 In other news, the flags have gone up very late in support of Kerry and their encounter with Mayo in the All Ireland Final. Maybe it's due to disappointment over not meeting Dublin or just general complacency given the result of the 2004 final, but the lack of excitement has been quite pronounced.
In fact, there are more flags up for Munster than for Kerry, but then the Heineken Cup is coming to town this afternoon.
Still, there is a small buzz growing around the place – a slowly building sense of expectation. I plan to be there in Croke Park, but I would be very surprised if the final is as easy as it was the last time we met Mayo…
Technorati tags: Dingle, Kerry, All Ireland, football, baker, cake
This entry was posted on Sunday, September 10th, 2006 at 1:23 pm and is filed under Dingle. You can follow any responses to this entry through the RSS 2.0 feed. You can leave a response, or trackback from your own site.