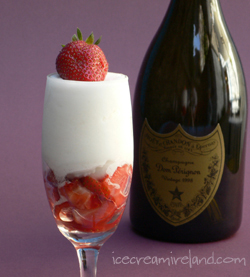 My brother and I have had discussions about how far one can go with ice cream. Given that we are already at the top-end of the market, it makes some sense to push the limits of ingredients to make ice cream beyond what most people could imagine.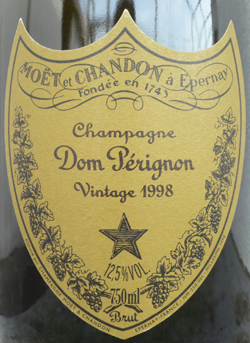 Champagne sorbet is good. We have done it. So why not, we thought, make a sorbet with Dom Perignon? In our local supermarket, a pair of 1998 vintage bottles have been staring at me for a while. Why not, indeed?
Then a journalist from the Sunday Times rang wanting to do an article about business and blogging. As part of the interview, she asked me what I'd be blogging about and I mentioned using upscale ingredients such as milk from the Kerry cow, the Valrhona single estate chocolate and a champagne sorbet using the Dom Perignon. The article about blogging is a few weeks off, but the upscale flavours caught her attention, and they decided to give us a blurb on that front. The article and the sorbet both came out on Sunday.
Given the price of the champagne, we're charging 10 euro a scoop for it in our shops, and there are definitely people going for it. I guess it's one of those things that you will never forget!
If you want to try to make it, here's a recipe:
Murphys Champagne Sorbet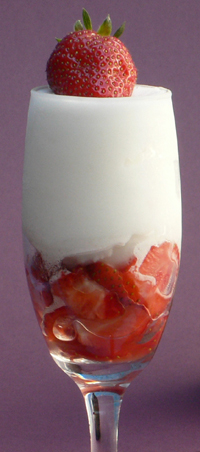 Ingredients:
330 gr Sugar
500 ml Spring Water
250 ml (Dom Perignon) Champagne
75-100 ml Lemon Juice
Yield: 6 Servings
What to do:
1. Boil the water and stir in the sugar, until it is completely dissolved.
2. Cool completely.
3. Stir in the champagne and lemon. (The lemon is just to offset the sweetness. Taste it as you add it, and make sure it doesn't overpower the champagne).
4. Freeze using a domestic ice cream machine, or cover and place in the freezer, stirring at 1 hr intervals to break up the ice.
5. Garnish with strawberries and serve!
Notes:
1. It's hard to make sorbet without an ice cream machine. You will need to interrupt the freezing process and stir, or you will be left with a block of ice! The more times you do this, the better the consistency will be.
2. If you're making a special meal, you can have your glasses of champagne at the start, and simply leave enough for the sorbet. If your sugar/water mix is already cold, the timing should work perfectly to add the champagne to the mix just before your main course, put it in the domestic ice cream machine, and it will be ready for dessert!
Technorati tags: dom perignon, champagne, sorbet, ice cream, recipe