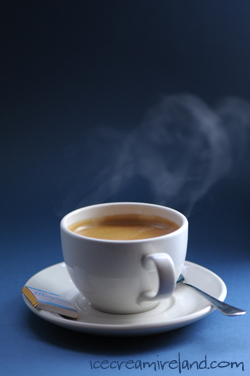 Before I go any further, I might suggest that unless you're a coffee geek, you might skip this post, since you'll most likely find it boring!
Anyway, some years ago, my brother was frustrated by the quality of the americanos in our shops. Basically, there are two ways people make americanos – one is more traditional – to add a single or double shot of espresso to a cup of hot water (or else add hot water to an espresso).  The second way is how most cafes do it in this country – simply run a normal espresso long enough to fill a small coffee cup.
From a taste perspective, we've never really been happy with either method. We've always preferred filter coffee or caffetiere as a way to make a good drinking coffee, but unfortunately, that's not what most of our customers want. They want americanos, and we've found it quite futile to convince them otherwise. So, we spent years playing with the americano, and never made a coffee we truly liked.
Then, one day Sean wondered what would happen if he threw out general wisdom and tried another method – to grind the coffee much coarser and run a very long shot through the espresso machine, long enough to fill a small coffee cup, using only taste as a guide to decide the grind setting. Of course a course grind means the shot runs very quickly, and any coffee guru who has seen us doing this has been horrified. "Your coffee is gushing," they would gasp. "That is not a proper americano!"
However, our customers preferred their americanos made our heretical way (we've done numerous taste tests), so we persevered, buying in second grinders just for americanos. Although we still prefer filter coffee and caffetieres, we agree with our customers that our method makes a better tasting americano than the traditional method.
Recently, Colin over at 3FE gave us a loan of his coffee refractometer, and I thought it would be interesting to test how our way of making an americano falls in terms of the generally accepted levels of extractions and solids.
Here's what I discovered: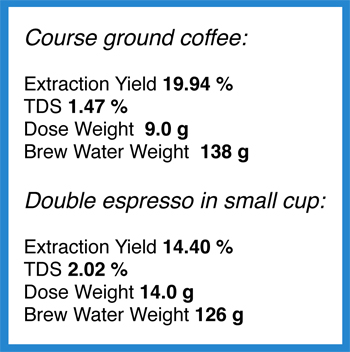 Interestingly, Sean's method (the top one) is just about bang on the money, as far as a cup of coffee goes, and a double shot with hot water in a small cup (the second one) has extraction levels that are too low and solid content that is too high. (I know it's a small dose that we use for this particular espresso bean, but I assure you that the extraction levels and solid contents are in an acceptable range).
Anyway, taste has always been the driving factor with us, even if it means breaking the rules. What I find interesting is that the results of this method not only taste good but also fit into current orthodoxy in terms of extraction. We'll see if the coffee experts remain horrified…
Technorati tags: americano, coffee, espresso, extraction