As part of our preparation for the Great Taste Awards written about in an earlier post, we made flavours. Chai latte, which was actually a request from Ard Bia in Galway, came out quite nicely, and if you want to try it, simply add a couple of espresso shots to the Honey Chai recipe I gave earlier and drop the honey.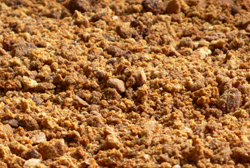 The brown bread ice cream took most of our attention, however, since it's a bit hard to get right. In Ireland, people think of brown bread ice cream as a very Irish invention, but there are Britain historical references from 1894 in that mention it. Mind you, they could have brought the idea back from the emerald isle!
It's a nice flavour – the bread should be crunchy in a base of vanilla ice cream with a dark, molasses-like flavour. To make it you need some dark brown bread (a bit stale helps) that you crush into small bread crumbs. You then sprinkle dark brown sugar sugar over it and place under the grill until it melts. Stir it, place it back under the grill, and repeat.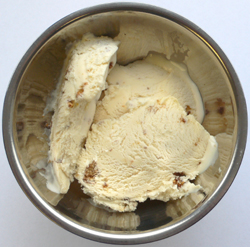 We tried regular brown bread, brown bread with Baileys, and brown bread with whiskey, all of which we sell in the shop from time to time. Perhaps I'll pass on a full recipe later, when we decide which we liked best!
Technorati tags: brown bread, chai, latte, ice cream, recipe, Irish