I'm just back from an extremely gruelling trip to Belfast and back in the search of new honeycomb (caramel) pieces. The trip was successful, the honeycomb pieces are much better, and I can now say that I've been in a honeycomb factory. Very cool.
Belfast was most memorable for the friendliness of the people, which I found surprising. It's been years since I've been there, and back then I remember fear and suspicion. Not anymore, it seems. Everyone was most helpful in helping me find my way, and the three running the factory were absolutely delightful.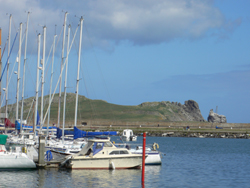 On the way back down, I stopped in Howth for a break and a stroll on a lovely day. I would dearly love a shop there. It's such a delightful town, and seems to have the same open, relaxed, holiday vibe as Dingle.
All for the future, I suppose! Now I'm heading home. I'm knackered!
Technorati tags: caramel, honeycomb, Belfast, howth, ice cream